We help you capture full cost savings

Offered by offshore outsourcing

No costs spent on recruitment;
No costs spent on infrastructure;.
No costs spent on training;.
No need to carry monthly overheads;
All business expansions are risk-free!

Enjoy an opportunity to cooperate with web
and mobile development company in Ukraine!

Choose our proficient IT support and web developers to outsource your IT projects

We provide professional IT and programmers' support on contract basis, as well as project development services on the fix-time and fix-price basis to world-class clients in the U.K., United States, and Europe.

Dedicated

Client
OwnDevelopment

Team

Here at SoftGroup, we are committed to creating, running, and supporting
client-own IT development teams in Ukraine, and countries of Eastern
Europe.

Own

Team

Model

Enjoy the benefits of productive cooperation with professional and
educated IT specialists from Eastern Europe and use their knowledge and
skills to serve your IT needs. Reduce your business and administrative
costs with our outstanding Client-own IT team model and a wide array of
quality services developed by our qualified professionals.

Professional

Custom
Software

Development

Software development
Web development
Mobile application development

We

Invest

World Class Offices

10+ technology platforms
More than 320 employers
100+ clients in 14+ countries
Innovative Application Development Helps You Meet Your Strategy
The aim of SoftGroup, one of the leading outsourcing companies, is to provide strategic IT services, high quality software development solutions and consultancy offshore development options in the rapidly growing fields of Cloud/SaaS and Mobility technology by making the best use of SDLC (Software Development Lifecycle) services. Additionally, we concentrate on design and delivery of the most innovative technological platforms for such specialized industries as the financial, healthcare and educational sectors.
The business ethos of SoftGroup is based on the principles of employing the most talented professionals, a dedication to our work and by delivering outstanding software development options to our clients, whom we see as our partners. By collaborating with many prestigious global organizations every day, we deliver state-of-the-art outsourcing solutions to enhance their business brand and increase their market share.
The dedicated software development team employed by clients of our outsourcing company is capable of delivering technological solutions and IT Services ensuring that with the help of our dedicated software development team, our clients and partners achieve their strategic objectives by bringing greater competitiveness, agility and success to their organizations.
who we are?
A full Decade in Business
More than 320 Professionals
Huge Global Delivery Facility
Local Support in over 10 Locations Worldwide
Clients in 14 Countries and 4 Continents
Quality Certification for ISO 9001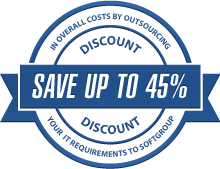 Variable Methodologies, such as: RUP, Agile/XP and more
Access to Highly Trained, Experienced Professionals
Many Technology Skills Accessible in One Facility
Excellent Protection for Intellectual Property
who we are?
Our professional team of over 100 technology enthusiasts is proud to be headquartered in a location that has so many outstanding amenities, from incredible beauty, to an exceptional labor force to ideal weather conditions.
Read More